Mobility Wall
A dynamic e-commerce landing page capable of A/B testing that crushed the competiton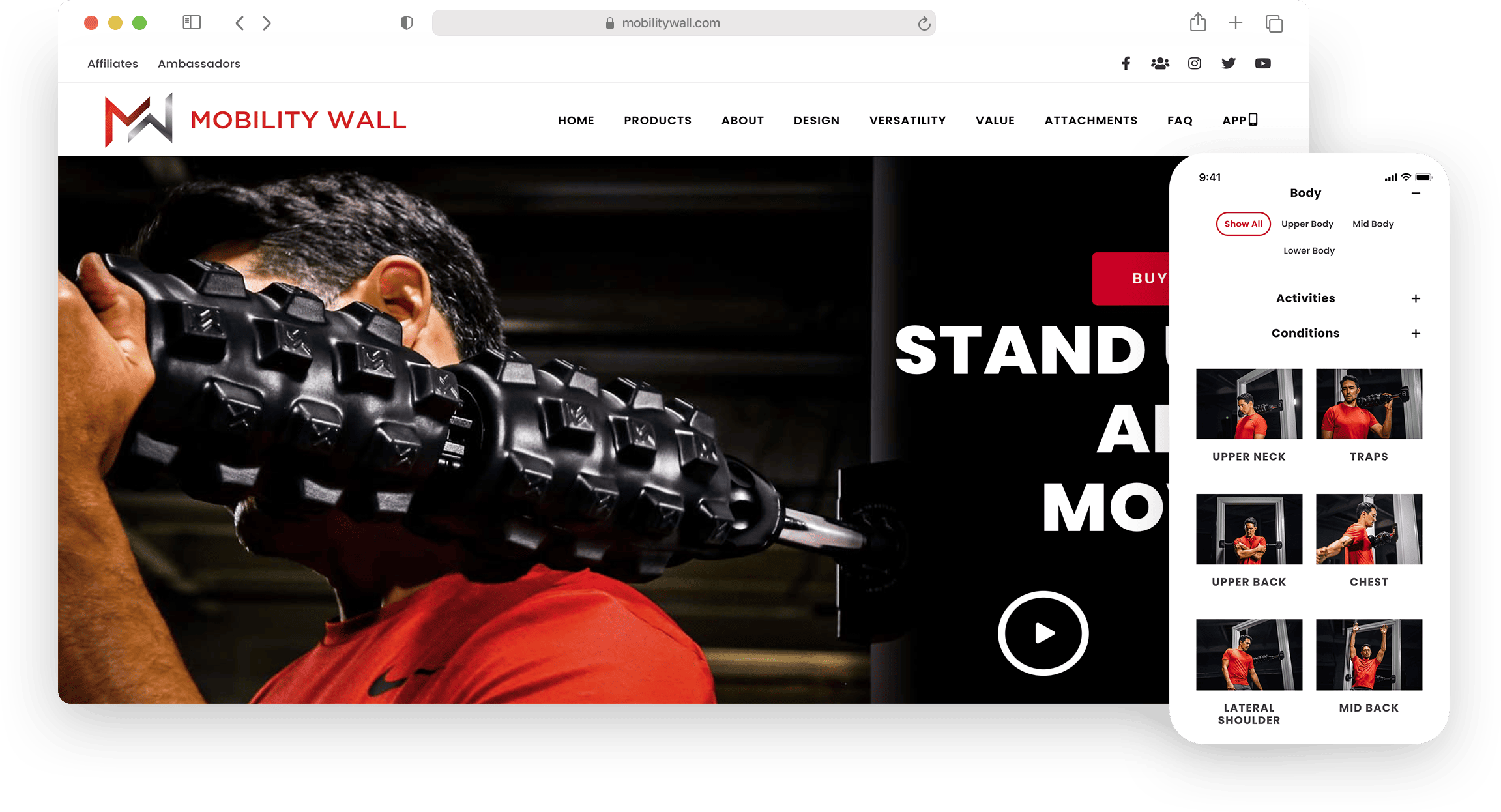 20%
Higher Conversion Rate
Mobility Wall is a revolutionary fitness brand launched during the COVID-19 pandemic, created with the goal of improving their customers' quality of life with innovative, user-friendly products that help increase mobility and range of motion.

Their flagship products are the Mobility Wall and Mobility Wall Pro, standing foam rollers that allows the user to target all muscles, with an attachment for trigger point therapy.
"Launching a brand is never an easy task and requires tight communication with quick on the fly edits. TS Marketing was very responsive and always knew how to handle any obstacle. Challenges are expected but having a solution oriented team that you can trust is the key to the success of any company."
- Chris DiVecchio, Mobility Wall Inventor & Co-Founder
The Challenge
At its core, Mobility Wall is a direct to consumer e-commerce company, but they faced two unique challenges that couldn't be met by any out-of-the-box solution. Being new to the e-commerce space, they were also keen on A/B testing, and wanted to create multiple landing pages to route different ad campaigns. Since Mobility Wall is such a novel product, the company needed an elegant and innovative way to instruct customers how to use their rollers without spending vital startup funds on a full-fledged mobile iOS/Android app.
mobilitywall.com
The Solution
Since the Mobility Wall team was already familiar with Shopify, TS Marketing opted to use Shopify's e-commerce backend, and integrated Shopify's API into a custom storefront that was much more robust than what Shopify's generic template based platform could offer. This single landing page was capable of dynamic ad response and A/B testing—the same page rendered a different view for users routed from an ad targeting seniors than those who viewed an ad targeting professional athletes.

Our solution to a cost prohibitive mobile app was to design a Progressive Web App (PWA) with modern web capabilities to deliver an app-like user experience at a fraction of the cost of a traditional iOS/Android app.

To help Mobility Wall remain agile, TS Marketing developed a unique QR code system that connects users to the instructional app where they can register their product. Prior to registration, the system collects data such as serial number, sales channel, the user's general location, and is able to track their behavior on the app. This data is then directly fed into Klaviyo in order to retarget existing customers with new product ad campaigns.
The Result
Mobility Wall simultaneously launched on two separate platforms: the dynamic page built by TS Marketing, and a competitor that specialized in templated "as-seen-on-tv" style pages. TS Marketing's dynamic landing page had a 20% better conversion rate, pulling in over $90,000 a month in sales.
Get in Touch
Call (310) 626-1230 or use this contact form and we'll get back to you within 24 hours