Weedster
A California state compliant cannabis delivery platform with real time identification verification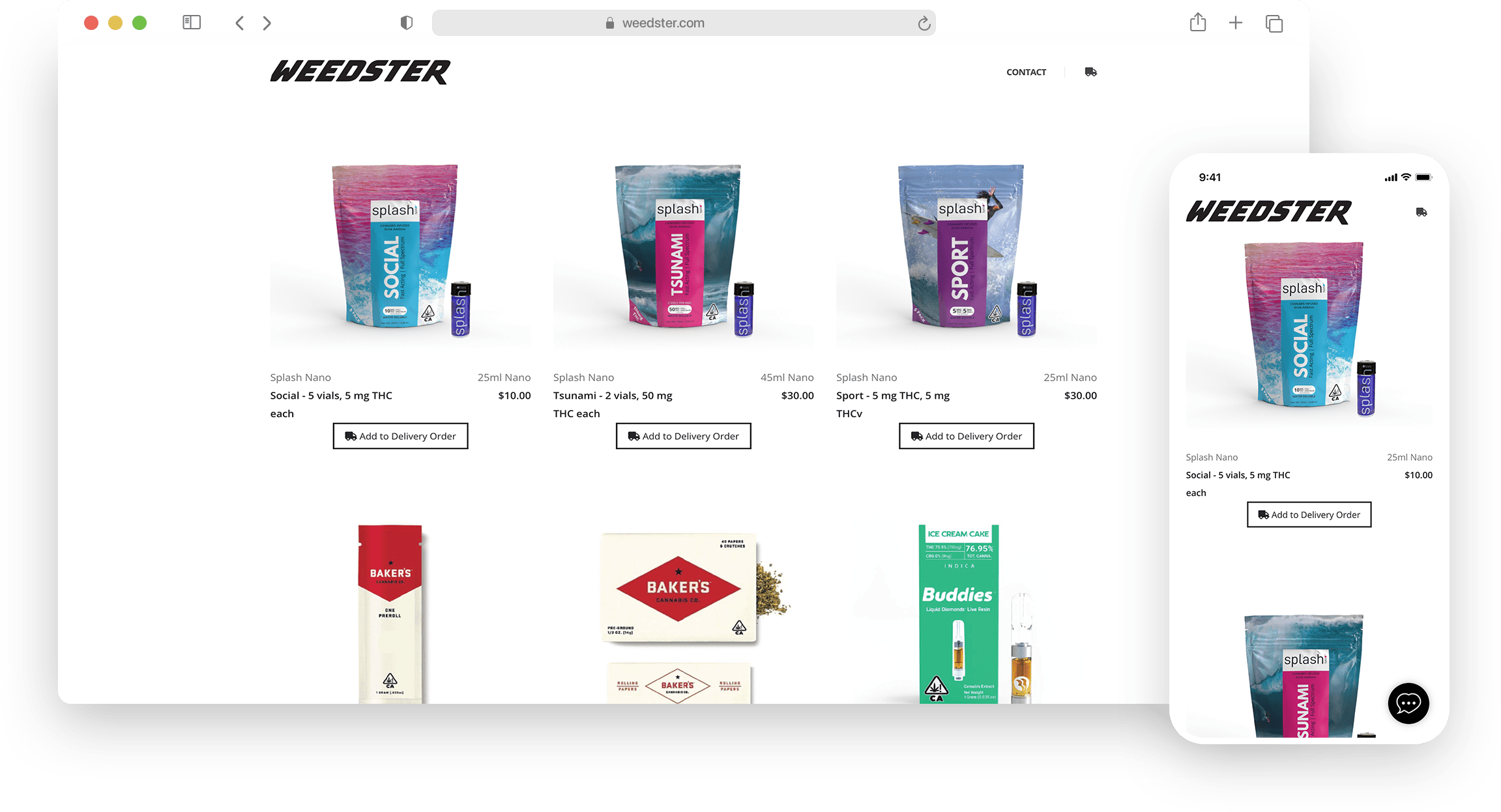 Weedster is a cannabis brand and delivery platform based out of Santa Barbara, California. They differentiate themselves from other brands by working with a network of dispensaries that sell Weedster products to make deliveries straight to your door.
"TS Marketing differentiates themselves as that rare detail-oriented development company that has a propensity for collaboration and a common-sense understanding of building projects positioned for rapid scale at a reasonable price. Their familiarity with a variety of unique online transaction requirements and direct-to-consumer logistics, paired with a minimalist approach to user interface design and efficient backend flow, results in a frictionless, high velocity sales experience for both our company and our customers."
- Seth Seaberg, Action Brands Co/Weedster
The Challenge
To facilitate deliveries, Weedster needed to build a scalable e-commerce platform for customers to order from. They also required a dynamic delivery system that shared updates in real time with the nexus of dispensaries that sold their products. Due to this industry being tightly regulated, the Weedster platform had to comply with California state law, but also be simple for their dispensaries and drivers to use.
weedster.com
The Solution
TS Marketing built Weedster the solutions they needed and more.

First, we created a dynamic delivery system that automatically routes orders to the closest licensed delivery depot. The system is also capable of automated ID authentication; a user takes a photo of their ID, and Weedster can immediately verify their identity and age. From there, the system sends the user real-time status updates from the delivery driver.

TS Marketing opted for a cached cookie system to store user data locally on the customer's device, over a complex internal database. Using cookies, a user only needs to validate their ID and delivery details once, and each subsequent visit to the shop will autofill their information with one-click. This means quicker and easier purchases for both Weedster and their customers.

Finally, we built a powerful administration portal for Weedster to add, manage, and remove product inventory. This panel stores over 80 different data points of chemical composition for the cannabis, manages incoming orders, communicates status to delivery drivers and clients, allows admins to add, remove, and manage delivery depots, sets delivery radius, and updates license information. The system also exports METRC CSV files for compliance purposes.
The Result
Weedster currently has a database of 61 unique products sold throughout the state of California, and can showcase the Weedster system to attract further investors to their company.

In 2022, TS Marketing is supporting Weedster's disruptive pivot to Web3 vertical integration and launch of the Weedster NFT. This will enable worldwide distribution, hyperlocal delivery franchises, cryptocurrency e-commerce transactions, and instantaneous settlement to all levels of the supply chain.
Get in Touch
Call (310) 626-1230 or use this contact form and we'll get back to you within 24 hours